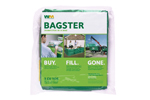 Have you been putting off getting an organizing project started because you did not want a large metal unit for the recycled waste in the front?  Waste Management has a new service called Bagster – Dumpster in a Bag.
You purchase a large bag at your local home improvement store that holds up to 3,300 pounds of unwanted, unusable clutter and waste.  Then schedule collection pickup on online or call for a time.
To see if the service is available in your area, click here.  This will work for small renovation projects as well.  The first and most difficult step in the organizing process is clearing out the excess, making hard decisions about things that are now clutter but seem to say in the way.  Looks like Waste Management is making the job a little easier.